Celebrate a New Year and a new golden era for New York at the Marriott Marquis' iconic NYC extravaganza! This once-in-a-lifetime event is just steps away from the famous Ball and offers some not-to-be-missed views of the world-famous Times Square celebration and NYE Ball Drop. If you're looking to get your gowns and tuxes out of mothballs, this formal attire soiree is your front-row seat to the return of classic New York City, and the entertainment and atmosphere is top shelf.
Party the night away amid the exhilarating energy of Times Square as you take in amazing views from one of two outdoor terraces, and gaze down on the New Year's Rockin' Eve main stage below. Inside, a live DJ is just one of the diversions we've provided! Feast on our dinner buffet, which includes a rainbow of cuisines inspired by the city's diverse culture and neighborhoods, from Little Italy and Chinatown to the Meatpacking district and fresh seafood. Don't forget about the dessert bar! All tickets include 5 hours of premium open bar, to wet your whistle before the complimentary midnight toast arrives in your hand, as if on cue.
This rare event only takes place once a year, allowing a select number of guests to participate in the largest party of the year from the comfort of the beautiful Marriott Marquis Hotel in Times Square! This private party and Terrace Viewing area is located on the 8th of the beautiful Marriott Marquis Times Square Hotel and offers select ticketholders front-row views over the entire Times Square NYE extravaganza: the live show and performances, the neon lights and excitement of the millions of celebrants below, and the iconic Times Square Ball Drop.
At midnight, Direct Ball Drop View ticketed guests will experience an unobstructed view of the world-famous Times Square NYE Ball Drop as the party counts down with the millions gathered below. The confetti shower, the roar, and the thrilling energy of the Times Square crowd: it's going to be an unforgettable NYE night.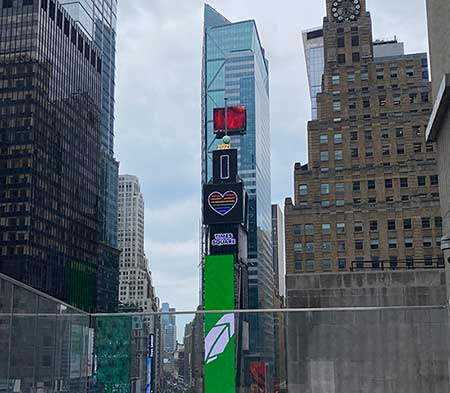 Photo Above: Actual View of Times Square Ball from the Terrace at Marriott Marquis Times Square NYC Hotel
Be at the heart of the most iconic NYE celebration in Times Square with all the warmth and luxury of a first-class NYC private event. The exclusive affair boasts NYC's famed nightlife standards and offers VIP ticket packages with reserved seating, and VIP Terrace Access with Ball Drop views. Situated in the heart of Times Square, a stone's throw away from the Ball Drop, Marriott Marquis Times Square features sophisticated décor – and floor-to-ceiling windows overlooking glittering Times Square.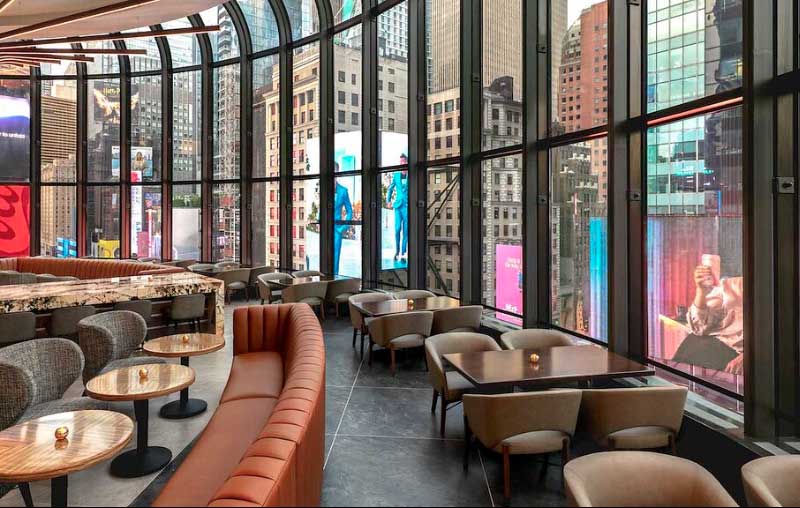 Photo Above: Actual image of the Times Square Window Wall / Ball Drop View Tables Inside Marriott Marquis
This premium event will be an unforgettable night - but be sure to check out our VIP upgrade packages! Group packages with bottle service, and couples tickets with a champagne are available, but most importantly, our VIP tickets will experience an unobstructed view of the world-famous New Year's Eve Ball as it drops. The confetti shower, the roar, and the thrilling energy of the Times Square crowd: be there, at the Marriott Marquis for this stunning event!
DRESS ATTIRE IS STRONGLY RECOMMENDED:
Let's dress up, have fun, and get ready for a night out in New York for New Year's Eve. Get ready to enjoy a fun evening of great music, dancing, celebrating, and ringing in the New Year ... We encourage all guests to dress in formal attire / black tie optional.
Join the 3rd Annual New Year's Eve VIP Party and usher in the New Year with the thrill of the Times Square NYE celebration and spectacular views of the iconic Ball Drop.
All guests will receive the following:
(5) Hour Premium Open Bar from 8pm - 1am
(3) Hour Dinner Buffet Stations from 8pm – 11pm
(2) Hour Dessert Bar from 11pm – 1am
Access to two Outdoor Terrace's Overlooking Times Square until 11:15PM
IMPORTANT:Only guests with "Ball Drop Terrace Access" tickets will have access to the Ball Drop Viewing Terrace from 11:15pm to 12:15am
FOOD MENU:
Sushi Bar: Rolled to order by Sushi Chefs
Raw Bar: Clams on the half shell, Lobster Cocktail, Oysters on the half Shell, Seafood Salad
Mulberry Street
Salumeria Biellese: Cacciatorini Al Diavolo | Capicola | Coppa | Sopressata Tartuffini | Prosciutto Di Parma | Nduja
Hudson Valley Cheeses: Murray's Stilton | Tumbleweed Cheddar | Humboldt Fog | Petite Basque | Manchego | Aged Provolone
Served with Appropriate Accompaniments: Fig Jam | Cherry Jam | Quince | Mostarda | House Made Focaccia
Antipasti: Fresh Mozzarella | Smoked Mozzarella | Burrata Roasted Peppers | Beefsteak Tomatoes | Grilled Artichokes | Romesco | Broccoli Di Rabe Rosemary Olives | Sundried Tomatoes | Sweet Peppadews
Slider Station
Beef Sliders Mushroom Duxelle and Balsamic Onions
Chicken Sandwich Fried Buttermilk Chicken Lettuce, and Hot honey
Lobster Roll Potato Roll with mayonnaise-based lobster salad
Truffle Fries
Chinatown
Chicken Lemongrass Pot Sticker | Steamed Vegetable Shiu Mai | Shrimp Dumpling | Steamed Pork Buns | Soy Sauce | Chinese Mustard | Sweet Chili Sauce | Chili Garlic Oil
Cold Sesame Noodles Egg Noodles | Scallions | Carrots | Bean Sprouts | Peanuts
Chow Fun Vegetable Fried Rice Bamboo Shoots | Water Chestnuts | Mushrooms | Carrots | Snap Peas | Bean Sprouts | Scallions
Sweet & Sour Chicken Tempura Thigh Meat | Bell Peppers | Onions | Pineapple | Carrots | Green Onion | Sweet & Sour Sauce
Meat Packing District
Prime Rib Crispy Onion Strings | Creamed Spinach | Horseradish Cream
"36 Hour" Sous Vide Pork Belly Porchetta Broccolini | Crispy Fingerling Potatoes | Chimichurri
Passing Small Plates
Crab Cake Over a corn relish
Fried Buttermilk Chicken Sandwich Potato Roll | Lettuce | Tomato | Hot Honey
Sirloin Crostini Toast Point topped with dry age Sirloin Topped with Foie Butter
Tomato and Mozzarella Toast Point with Fresh Mozzarella and Tomato Topped with Fresh Basil And Extra Virgin Olive oil
Tuna Taco Fresh Yellow fin Tuna drizzled with lemon Vinaigrette Topped with pickled wasabi
Dessert Station
Chocolate Puddle Tart
Key Lime Meringue Parfait
Gold and Silver Flecked Marshmallow Kiss
Chocolate Covered Strawberries (GF)
Chocolate Espresso Truffle Bar
Cheesecake Chocolate Lollipop
Passion Fruit and Coconut Profiteroles
Vanilla and Raspberry Champagne Panna Cotta (GF)
White Chocolate Peppermint Bark (GF)
Assorted Macarons (GF)
GF - Gluten Free; All Desserts are Nut Free except Macarons
* - Menu Subject to Change
LIQUOR & DRINK MENU:
Liquors: Grey Goose Vodka, Jack Daniel's Whiskey, Johnny Walker Black Scotch, Bombay Sapphire Gin, Bacardi Superior Rum, Crown Royal Whiskey, Don Julio Tequila, Hennessy Privilege VSOP Cognac, Knob Creek
Luxury Red, Sparkling and White Wines, including LaMarca Prosecco
Domestic Beer: Bud Light, Craft Beer, Samuel Adams Seasonal, Blue Point Brewery Hoptical Illusion IPA, Brooklyn Lager
Imported Beer: Heineken, Amstel Light, St. Pauli Girl Non-Alcoholic Beer
Mineral Waters
Assorted Pepsi and Schweppes Soda Products
Photo & Video Release
When you enter a Balldrop.com event or program, you enter an area where photography, audio, and video recording may occur. By entering the event premises, you consent to interview(s), photography, audio recording, video recording and its/their release, publication, exhibition, or reproduction to be used for news, web casts, promotional purposes, telecasts, advertising, inclusion on websites, social media, or any other purpose by Balldrop.com, the New York Marriott Marquis, and its affiliates and representatives. Images, photos and/or videos may be used to promote similar events in the future, highlight the event and exhibit the capabilities of Balldrop.com and the New York Marriott Marquis. You release Balldrop.com and New York Marriott Marquis, and its officers and employees, and each and all persons involved from any liability connected with the taking, recording, digitizing, or publication and use of interviews, photographs, computer images, video and/or or sound recordings.
By entering the event premises, you waive all rights you may have to any claims for payment or royalties in connection with any use, exhibition, streaming, web casting, televising, or other publication of these materials, regardless of the purpose or sponsoring of such use, exhibiting, broadcasting, web casting, or other publication irrespective of whether a fee for admission or sponsorship is charged. You also waive any right to inspect or approve any photo, video, or audio recording taken by Balldrop.com or New York Marriott Marquis or the person or entity designated to do so by Balldrop.com or New York Marriott Marquis. You have been fully informed of your consent, waiver of liability, and release before entering the event.