About Ripley's Believe It Or Not NYC New Years Eve on December 31, 2018 (LAST YEAR)
Ring in New Year's Eve 2018 in Times Square, New York with a night of amazing and unbelievable happenings at Ripley's Believe It or Not! Make this New Year an unforgettable experience as you journey through the labyrinth of strange and wonderful sights. We know that Ripley would be the first to believe that this NYE party will be the thrill of the year.
Ripley's Believe It or Not will be a New Year's Eve event full of excitement and wonder. Marvel at unique and electrifying artifacts from all corners of the globe in the Odditorium, or test your skills on Ripley's Impossible Laser Race. Your NYE ticket includes it all the evenings perks, inducing a 5 hour premium open bar for guests 21 and older. Have the most fun dancing the night away with a live DJ performance, playing top tracks from all genres, including Top 40, dance, and rock.
Ring in the New Year properly with complementary party favors for all guests, a champagne toast at midnight for the parents. In addition to the drinks and entertainment you will have access to all that Ripley's Times Square has to offer. Explore and discover over 500 artifacts and over 20 galleries in North America's largest Ripley's attraction<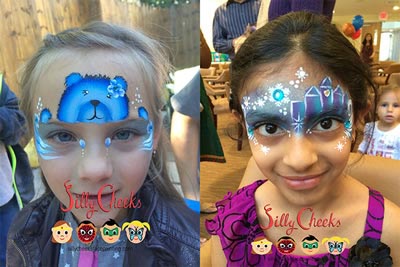 Your kids will have a blast on New Years with getting their face painted their favorite characters
Ripley's Believe It Or Not is a historic venue and the perfect family-friendly space to celebrate this NYE. Conceived by Robert Leroy Ripley, a baseball player, cartoonist and an obsessed collector of weird and wonderful oddities, he opened his first Odditorium at Chicago's World's Fair in 1933. His collections of artifacts from his travels all over the world since then, have sparked cartoon strips, multiple T.V series and Ripley's Believe It Or Not theatres all over the world. Each gallery from Niagara Falls to Kuala Lumpur houses its own unique collection of rare finds. Here in New York City's Times Square location, you can explore over twenty galleries of incredible exhibits, interactive displays and even artifacts collected by Ripley himself! From the incredible Two Headed Calf to the amazing Albino Giraffe, the world's largest collection of authentic Shrunken Heads and more is all here to wow you. Ripley's Believe It or Not on New Year's Eve is an experience that has to be seen to be believed. 
Taste of New York Passed Hors D' Oeuvres
Passed Hors D' Oeuvres Served Throughout the Venue 8PM-10PM:
Mini Cheese Burgers Served with Heinz 57
Crispy Free Range Chicken Tenders with Passion Fruit Dipping Sauce
Mini Bagel with Smoked Salmon & Cream Cheese, Fine Sliced Red Onion & Capers
NY Pretzel Bites Spicy with Yellow Mustard
Mini Lobster Rolls Cold Water Lobster Salad on Toasted Sweet Roll Served with Spicy Mayo and Fresh Chive.
Mozzarella & Cherry Tomato Skewer Served with a Balsamic/ Raspberry Reduction
Crudités of Fresh Garden Vegetables Served with Blue Cheese Aioli
Triple Chocolate Oreo Crunch Brownies & Assorted Fresh Baked Cookies
NOTE: Strollers must be checked upon arrival and are not permitted within the attraction.